Complete Bachianas Brasileiras (Naxos)
Liner notes from the Naxos.com website.
This is what Naxos does best: these discs include interesting (and very marketable) repertoire, they're recorded with high technical standards, and they're very well played. Plus they're for sale at a bargain price. There are other sets available, though only the Villa-Lobos par lui-meme EMI set (another amazing bargain, and #1 on my must-buy Villa list) will jump out at you from record stores and online vendors.
Date Recorded:
Tuesday, November 30, 2004
Artist:
The Nashville Symphony Orchestra is conducted by Kenneth Schermerhorn (#2-9) and Andrew Mogrelia (#1). Jose Feghali plays the piano on #3, and Rosana Lamosa sings #5. Cynthia Estill and Erik Gratton perform in #6.
Cover: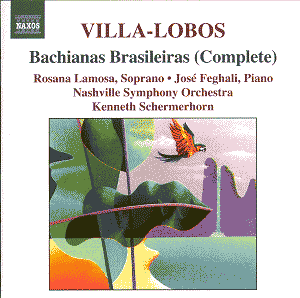 Category:
Bachianas Brasileiras
Chamber Music
Concertos
Orchestral
Piano